As a woman leader, business owner, and student of the brain and leadership for the last several decades, I believe it is time for us to change the conversation and mindset about women in the workplace. As G.D. Anderson said, "Feminism isn't about making women stronger. Women are already strong. It's about changing the way the world perceives that strength."
In the spirit of this year's International Women's Day theme of #ChooseToChallenge, here are 4 areas we should all challenge ourselves to change perceptions.
1. Stop thinking one-size-fits-all
First and foremost, let's stop trying to take a one-size fits all approach to understanding the challenge at hand. We know there are differences in what women bring to the workplace, and as Arianna Huffington states: "It would be futile to attempt to fit women into a masculine pattern of attitudes, skills and abilities and disastrous to force them to suppress their specifically female characteristics and abilities by keeping up the pretense that there are no differences between the sexes." – Arianna Huffington
Neuroimaging studies not only show that there are indeed differences in the brains of women and men, but that women's brains are generally better equipped for connectivity across the varied and different specialized cognitive modes and our HBDI data shows that women are more agile in their thinking preferences with the ability to shift their thinking as the situation requires it.
Instead, let's change the conversation to focus on the value that the cognitive diversity that women bring to the workplace, celebrating those differences and codifying the results as evidenced by studies like this research in Harvard Business Review showing that cognitively diverse teams solve problems faster.
2. It isn't a lack of leadership skills that is holding women back
Let's debunk the myth that a lack of leadership skills is what has prevented women from achieving a higher percentage of leadership roles. Several studies have shown that women often perform better than men in many leadership capabilities. A recent compelling example is Jack Zenger and Joe Folkman's study of over 60,000 leaders, which clearly shows it is not about "fixing" women's leadership– women outperform men across a bevy of critical leadership skills. You may not be surprised at skills like building relationships, but take note of taking initiative, driving for results and bold leadership – skills traditionally associated with male leaders.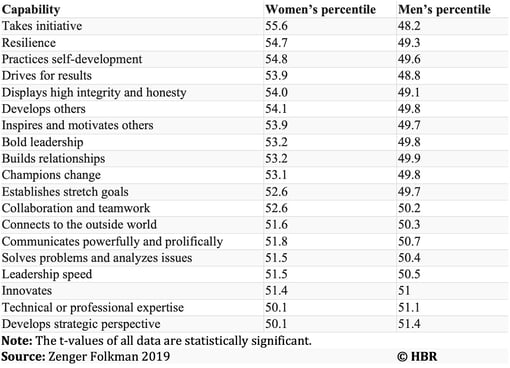 Instead, we should shift the conversation to an exploration of how our organizational cultures, and especially the algorithmic systems that increasingly influence them, must be rigorously de-biased to allow for equal opportunity for all to rise within our organizations as leaders. This approach benefits not only women, but all who are underrepresented in leadership roles. A wide array of resources exist to aid in this process.
3. Let's stop promoting a false reality of "work/life balance" for women
The pandemic has brought this reality to the forefront, showcasing the challenges that our blurred 24/7 work/life schedules create for so many, especially women, in today's environment.
Instead, let's take a hard look at the work/life reality so many experiences today and develop strategies to more effectively manage those demands in a way that does not force a choice between work and life. McKinsey research shows that gender parity at work is not achievable without addressing gender parity in society and that taking action now to invest in and resolve these key societal challenges (education, family planning, maternal mortality, digital inclusion, and unpaid care work) would increase GDP by $1.3 trillion in 2030 so all will reap benefits when we address the underlying issues creating those challenges now.
This post pandemic era gives us all an opportunity to shift our mindset and rethink how we design and approach the integration of work and life. The sooner we can adjust our expectations, roles and boundaries and design for the reality for today's working families, the greater the benefits will be. All organizations should be mindful of the importance of addressing these issues and the benefits the solutions will bring not only for individuals/families, but also to the organization and the economy as a whole.
4. Stop pointlessly gendering of roles and functions
Finally, let's stop thinking and referring to roles and functions as being more "male or female". As a keynote speaker at a recent Women in Technology Conference sponsored by Northwestern Mutual, I was reminded how those perceptions are so deeply ingrained in us. Historically, technology has been a traditionally male focused function, and our societal perception as such perpetuates the disparity,
Instead, we need to take steps, every day, to promote gender access and equality by SHOWING what a different world looks like, promoting and providing access to traditionally "male' roles, rather than just talking about it as a concept. As Neal Sample, CIO of Northwestern Mutual, said so well: "If you can't see it, you often don't believe you can be it." For all who aspire to grow into leadership positions, seeing real examples of leaders like you growing into leadership and management roles allows everyone to see and believe that it is possible for themselves, their daughter, their sister or their colleagues to also grow.
In building an inclusive culture, the language you use is also important. As Kimberly Sullivan, our VP of People & Talent at Herrmann shared: "Paying attention and holding teams accountable to inclusive language in the workspace, eg: in growth discussions, job descriptions and job postings, has a tremendous impact on building cultures of belonging." Using inclusive language will greatly benefit women but also all who are underrepresented in leadership roles.

The good news is that every day, we are seeing more examples of progress as we read announcements showing women and other underrepresented groups step into management and leadership roles. Let's seize every opportunity we have to make those advancements and change the conversation – not just during this Women's month and day – by taking action and celebrating the difference these can make for all, every day.
Stay in the know with everything Herrmann