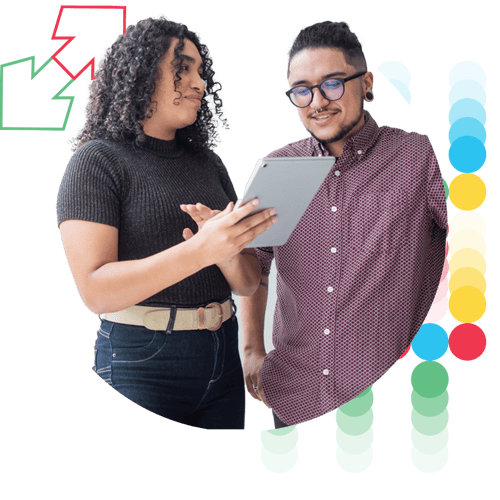 High-performance teams are crucial to your organization's success. These teams work well together, achieve shared goals, and drive business outcomes. Highly effective teams don't happen by accident, though: Building and sustaining team success takes time, effort, and diligence.

If your team members are missing deadlines, producing underwhelming work, or spending too much time on simple tasks, look closer at their ability to communicate, collaborate, and perform. Often, underperformance comes down to poor self-awareness and misunderstandings between team members.
What Causes Team Underperformance?
Countless factors affect every team's performance. Here are a few common reasons behind team dysfunction and low productivity.
Bad Communication Practices
Communication challenges in the workplace include misunderstandings, misaligned priorities, and team members working at odds with each other. Without effective communication, teams experience difficulty in making smart decisions in a timely manner. Poor communication also contributes to a lack of accountability, as leaders struggle to identify where mistakes originated and take corrective action.
Low Trust in Each Other
Lack of trust and unresolved conflict are two factors that can leave team members blaming each other and covering up mistakes rather than solving problems transparently. Without trust, team members may become overly competitive and withhold valuable information. Low trust also contributes to a lack of goal commitment and accountability. This manifests in outcomes such as teams that miss deadlines, fail to meet targets, and don't reach their full potential.
Unhealthy Group Dynamics
Low synergy and poor interpersonal dynamics prevent team members from being their true selves and achieving their full potential. For example, team members choosing not to collaborate can hinder the team's ability to accomplish tasks, much less be innovative. The negative atmosphere created by unhealthy team dynamics can increase stress levels and decrease commitment to business goals.
How Whole Brain® Thinking Builds 66% More Productive Teams
How we think fundamentally impacts every aspect of how we work. Fostering a greater awareness of each team member's unique perspectives and approaches to work allows you to unlock next-level performance.

Build Your Team's Intelligence
Apply what you learn about everyone's thinking preferences to work more productively and inclusively at scale, whether in person, remote, or hybrid.

Self-awareness helps teams become more effective because people recognize how their individual thinking preferences and behaviors affect team dynamics and performance.

When teams are self-aware, it's easier to identify each person's strengths, weaknesses, and opportunities for improvement. When team members are aware of their own behavior, they're better able to communicate and collaborate effectively. High self-awareness also helps leaders identify and address areas of conflict. In turn, team members acknowledge these conflicts and have an easier time committing to improvement.
Eliminate Blindspots
Reduce unproductive conflict and groupthink by empowering your executives, managers, and individual contributors to apply everyone's thinking preferences, swiftly identify threats, and compete in a fast-changing environment.

Cognitive diversity makes teams more effective by empowering people to bring their distinct perspectives and experiences to the table. By encouraging everyone's thinking preferences and perspectives, teams tackle problems from many angles and come up with innovative solutions that wouldn't be possible within a homogeneous group.

Cognitive diversity encourages deeper analysis and dialogue, as team members are more likely to hear and seek out perspectives different from their own. When teams look at a problem from many angles, they improve the odds of good decision-making and strong outcomes.
Harness Cognitive Diversity in the Flow of Work
Improve communication and accelerate knowledge transfer for on-site, remote, and hybrid teams through easy-to-use integrations with tools you use daily, including Microsoft Teams.
When team members communicate seamlessly in the flow of their work, they're better able to share their ideas and answer questions. They also prevent the time-wasting and hurt feelings that arise from miscommunication or lack of communication. A culture focused on good communication empowers team members to express themselves, build trust, and increase understanding.

Because communication is strongly linked to cognition, understanding thinking preferences can help inform each team member's communication preferences. Based on that information, you can develop communication guidelines that ensure important ideas and messages flow smoothly across the group, no matter what.
Gain Visibility Into How Your Teams Think and Work Best
Access insights on decision-making styles across your organization while safeguarding this information with enterprise-ready security features.
Organizations leverage thinking preferences via common language and tools to increase team effectiveness, develop and retain top talent, increase revenue, and spur collaboration and innovation.
Organizations can use a Team Effectiveness Dashboard, which allows each team member to share their perspective on the team's performance and how it might perform in an ideal state. The result is helping teams make more effective, proactive team decisions while looking retrospectively at how to improve team dynamics.
Trusted By
Solving problems is much easier if we understand how each team member approaches problems with their thinking preferences! This has been an epiphany regarding team composition and chemistry through the years. I have literally worked on teams who could not get along at all with each other until we shared thinking preferences based on HBDI® profiles. Before HBDI®, infighting and stagnation — after HBDI®, production and distributed leadership decision-making!
Matt Schuyler
Chief Brand Officer

Create and Support Highly Effective Teams
Whole Brain® Thinking, the HBDI® assessment, and the Herrmann platform have helped teams better understand how their individual contributions can benefit the group and create better results for over 40 years. Start by better understanding the factors contributing to team underperformance, such as poor communication. Then, look at what factors can most effectively improve your team's performance, starting with cognitive diversity.

When team members embrace each other's unique thinking preferences and work together toward a common goal, you can create a highly effective team that's more than the sum of its parts.