Diverse, cross-functional teams are more likely to accomplish the most impactful work that organizations perform these days.
When you're part of such a team, you have to figure out how to effectively leverage your various approaches to collaborating, solving problems, and making decisions.
Whole Brain® Thinking provides great insight that can help your team figure out how to make the most of your team's diverse thinking preferences- but those insights are only helpful if they're readily available.
That's where Stop & Think comes into play. If your team spends most of its workday in Microsoft Teams, the Stop & Think integration provides you easy access to the key information from your team member's shared HBDI® profiles. It also provides guidance on how to take advantage of all the insights those HBDI® profiles provide.
Here are five common scenarios when your team can use Stop & Think to maximize your effectiveness.
Forming
a New Team
When you first pull together a group of people to form a team, it's helpful to take some time to establish firm working agreements. It's best to establish those working agreements early before your team runs into challenges that may get the team stuck.
Those early discussions provide guidelines for the team to refer to when challenges arise, and emotions run high.
To form the most effective working agreements, It's helpful to understand how everyone approaches work so that you can establish agreements that account for different thinking preferences and leverage your team's cognitive diversity.
Stop & Think puts several HBDI® based resources at your team's fingertips to refer to when you're forming your working agreements and as you work through your team's day-to-day interactions.
The team map provides a quick way to see all of your team's profiles and how they relate to each other. This view provides a quick way to get familiar with your new team and their thinking preferences.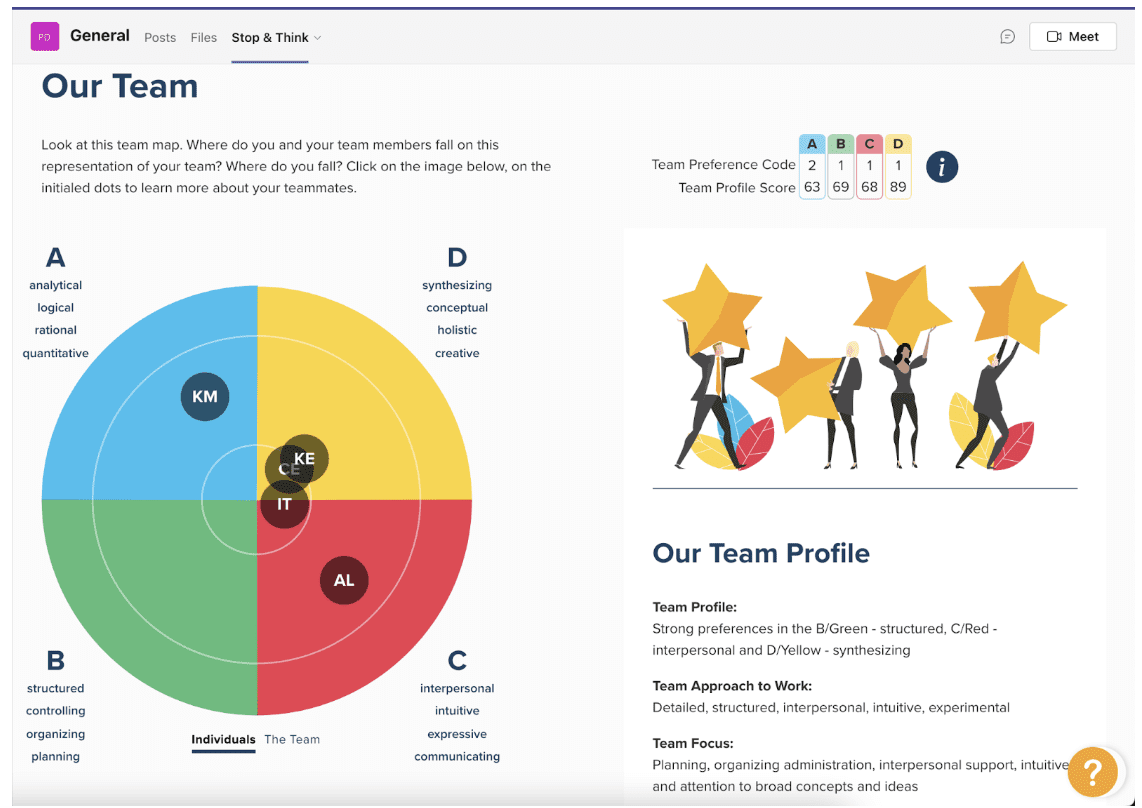 Stop & Think also provides a view of how your team's thinking profile changes under pressure.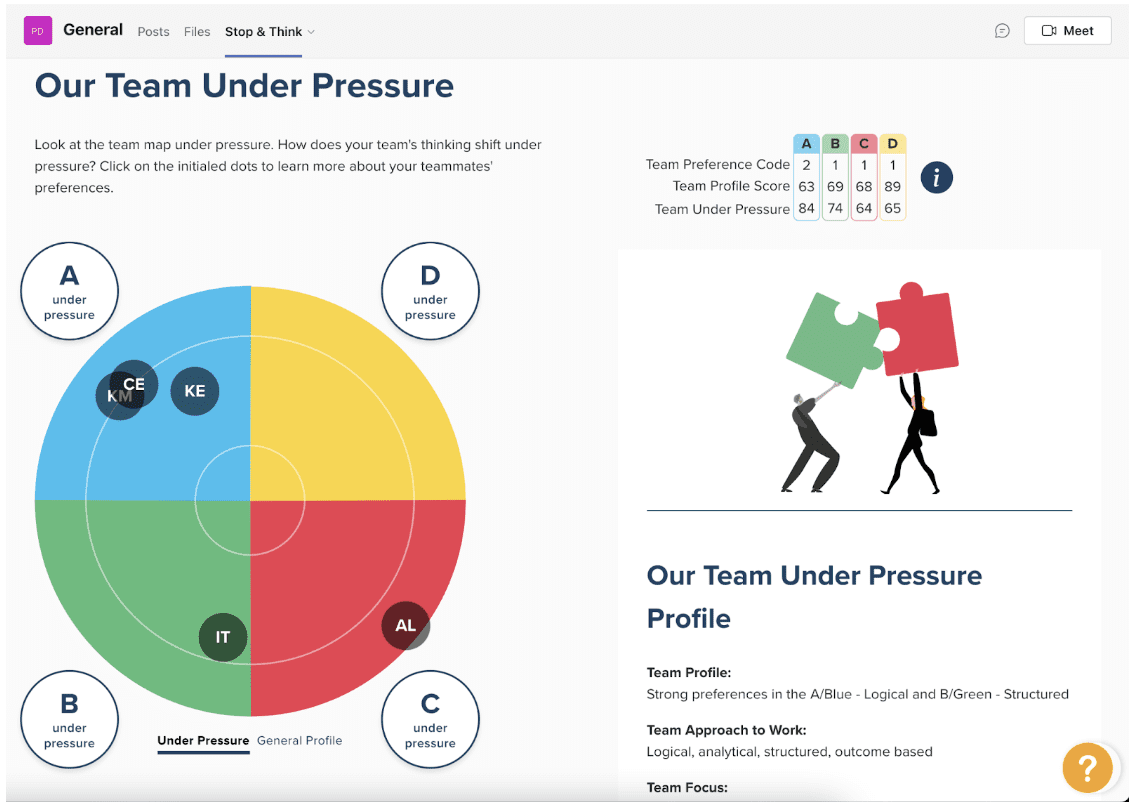 As your team gets familiar with one another, you can get guidance specific to your team's profile to figure out the best way to work together.
For example, the sliding carousel provides some guiding questions, like: What could our team focus on?" This section in the team profile identifies team-specific actions that your team should take to build a strong working relationship in normal conditions and when you're under pressure.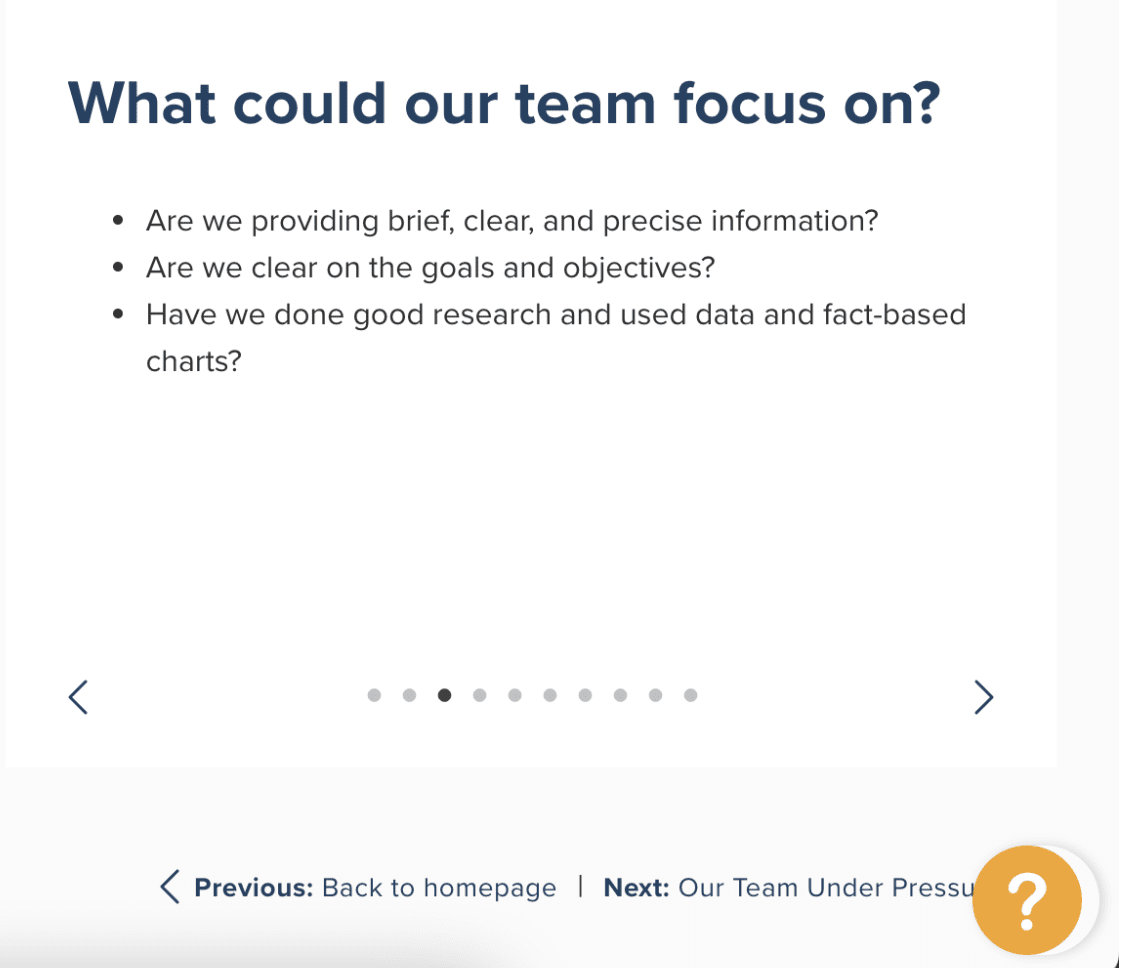 Bringing a New Member Onto an Existing Team
If you've ever joined a team that's already formed, you know it takes some time to get up to speed.
Not only do you need to figure out the team's work processes and schedule, but you also have to figure out how your approach to work meshes with the rest of your team.
Fortunately, if your team has taken the HBDI®, you'll have a wealth of information available to onboard new team members smoothly. Plus, when you're using Stop & Think, insight into your team's thinking is readily available and can play a key piece in your team's onboarding process.
Make sure your new team member complete and shares their HBDI® profile. Then you can point your new team member to the team profiles to give them an idea about how the team operates in normal times and under stress.

You also may want to review everyone's answers about communication, building trust, and frustrations so that the new team member knows how to best interact with their new teammates, and the existing team can quickly connect with the new team member in a way that works for them.
Planning and Facilitating Effective Meetings
Most teams rely heavily on a variety of meetings to guide their collaborative efforts. You want to make sure those meetings are as effective as possible, and that all of your meetings have a purpose. No one wants to have meetings just for the sake of having meetings.
Stop & Think provides guidance, influenced by Whole Brain® Thinking best practices, to ensure that you have only the meetings you need to have and that those meetings result in worthwhile outcomes.
The Meetings That Work section of Stop & Think provides a set of tools you can use to make sure that you plan, facilitate, and recap effective meetings.
You can use downloadable templates to plan your meetings with the 4 step process of Access, Build, Link, and Engage (ABLE) to get the best out of the cognitive diversity in your team: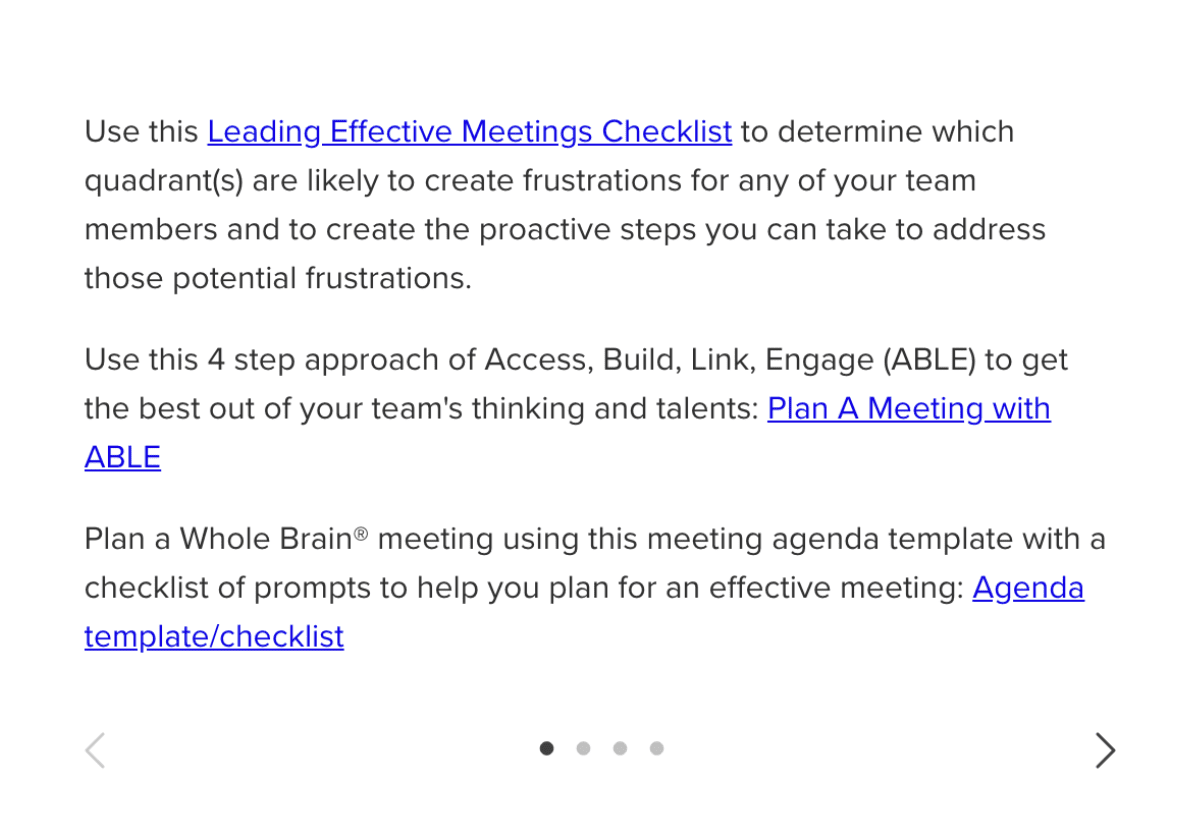 When you're leading the meeting, use guidance in Stop & Think to make sure you provide opportunities for Thinkers of all different preferences to fully engage: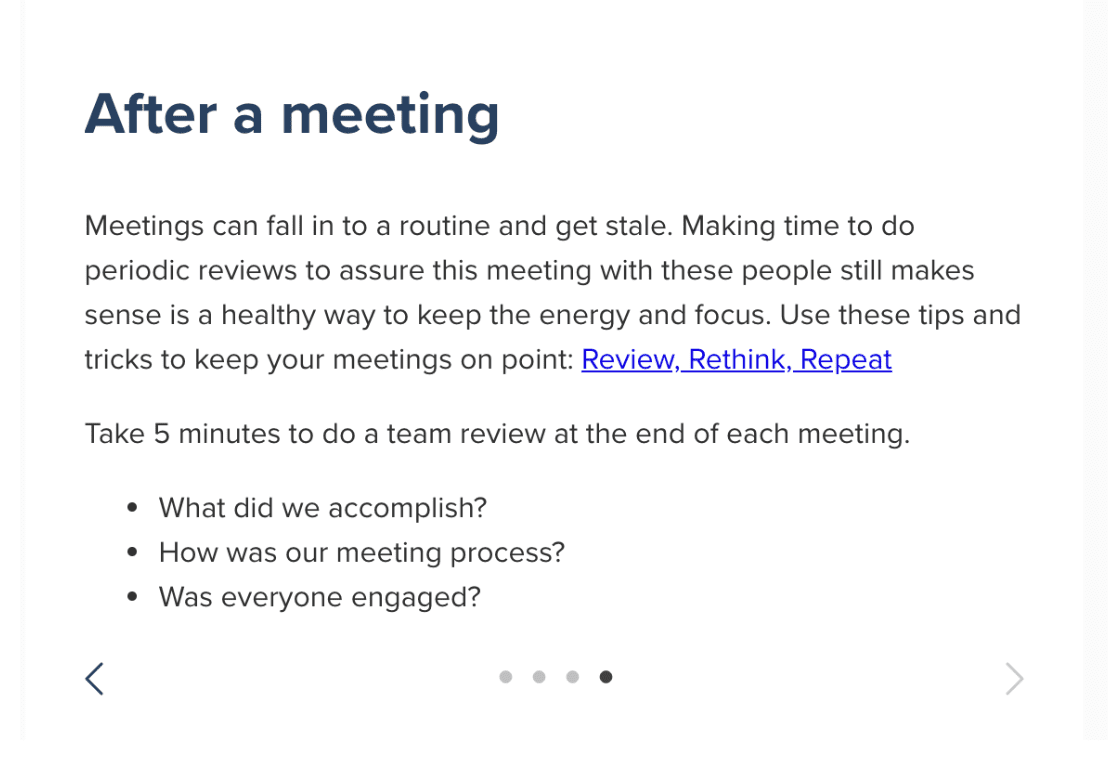 Reflecting and Adapting with Action-Focused Retrospectives
A retrospective can be a powerful meeting to help teams maintain their effectiveness and make incremental improvements going forward. This specific type of meeting can help teams to reflect periodically on their processes and working styles while identifying opportunities for improvement.
Stop & Think provides guidance that ensures your team's retrospectives use the power of Whole Brain® Thinking to help the team identify opportunities for improvement and take meaningful action.
As you identify opportunities for improvement during your retrospective, you can use the Whole Brain® Goal Setting walkaround tool in the Stop & Think app to lead a balanced discussion that covers each quadrant of the Whole Brain® Model. This will help make sure your whole team's thinking preferences are reflected in your shared goals.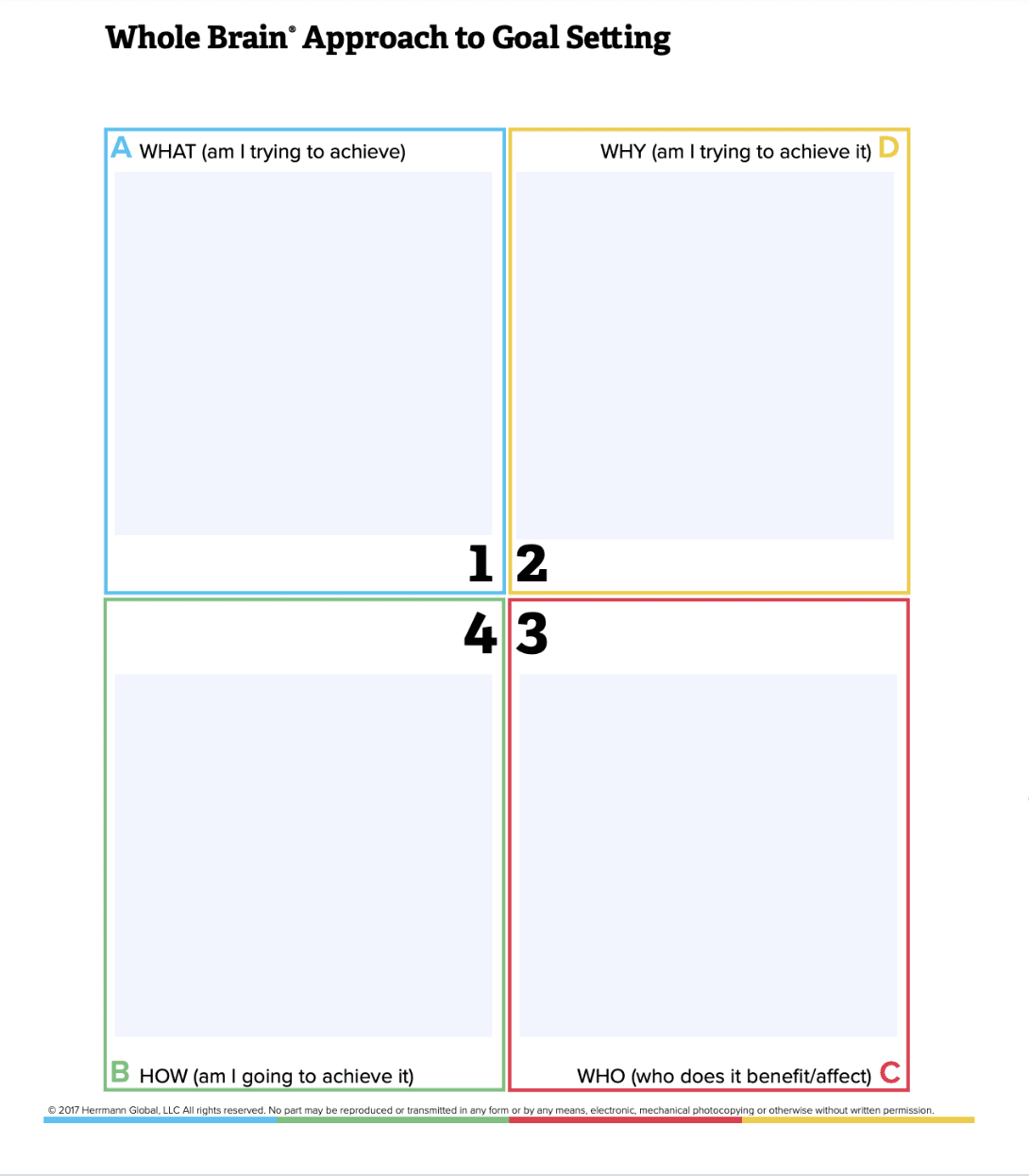 After discussing the questions and completing the walkaround, you can then use the Team Effectiveness Action Plan worksheet to lead the team in making decisions and coming to an agreement on the next steps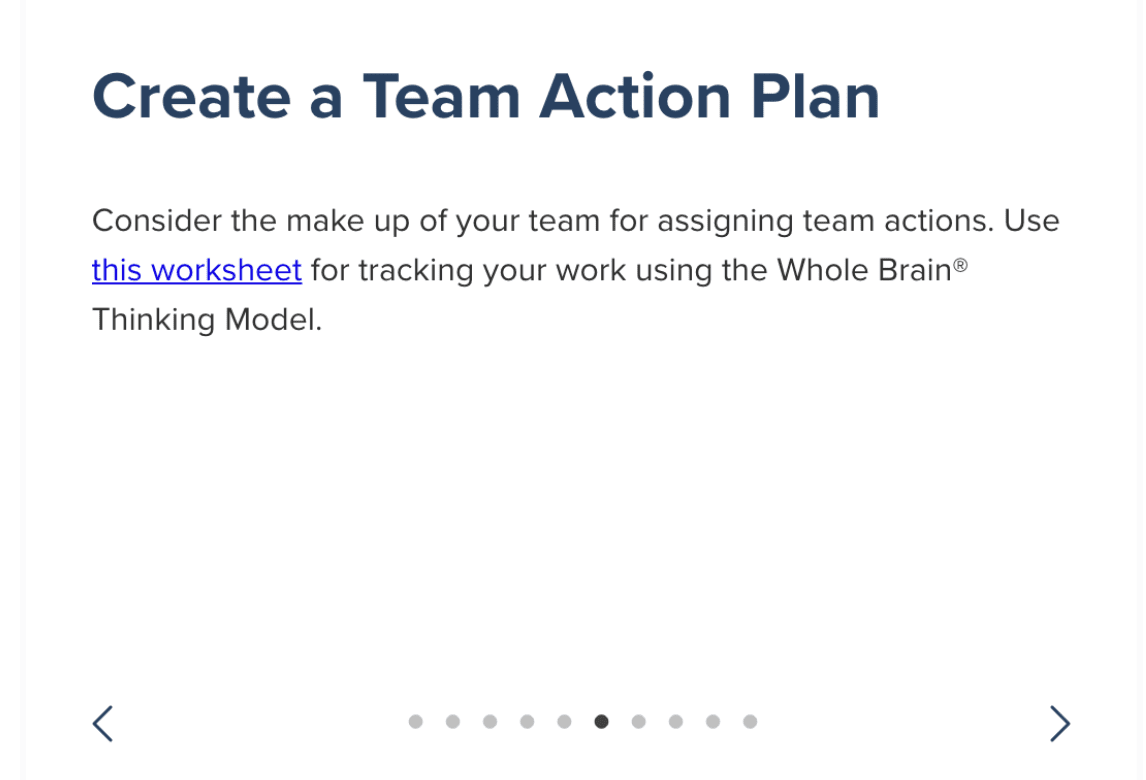 This lets you leave the discussion with a coherent plan of action for implementing the improvements you identified.
Improving Your Working Relationship with Another Team Member
Let's face it - 1:1 collaborations can be challenging. Sometimes individual members of your team will find they need some help to work with someone else on the team effectively.
Stop & Think provides guidance that helps team members figure out how to get "unstuck" in their 1:1 interactions - and to optimize a collaboration before any issues surface.
You can find some actionable guidance in the Getting Unstuck with Another section of Stop & Think.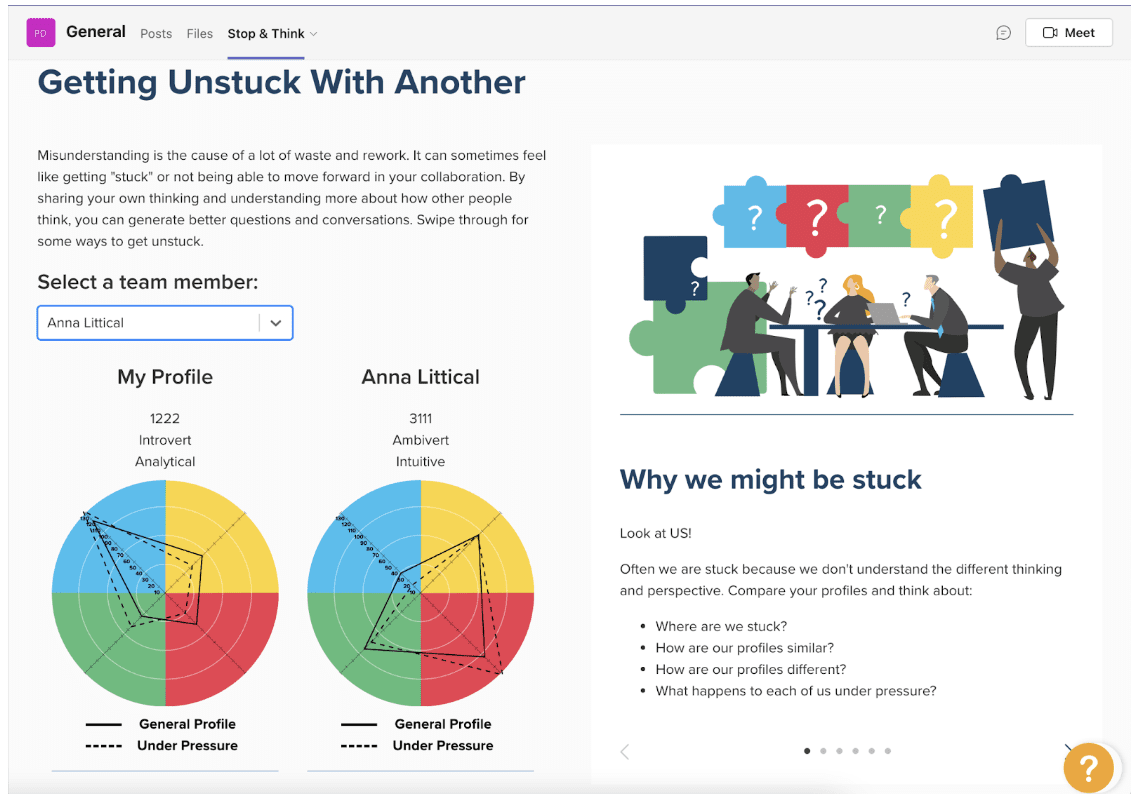 This section provides a side-by-side comparison of your profile with any other member of the team, along with some questions to consider as you explore your collaboration. These questions guide a helpful review of your HBDI® profiles to help you see why you may be stuck and how you can move forward.
Walkarounds on your strengths and frustrations can also help each person reflect on why they might be stuck, and what they can do to overcome it.

Discussions to get unstuck with someone on your team can be difficult, but with the help of guidance from Stop & Think these discussions can be a great deal more fruitful.
Guidance Is More Helpful When It's Easily Accessible
Every team is cognitively diverse in its own way - which can make teams more effective, especially with expert guidance customized to your team's thinking preferences that help make the most of that diversity.
Guidance is even more powerful when it's easily accessible, which increases the likelihood that your team will make use of it.
Stop & Think puts Whole Brain® Thinking at your fingertips, in your flow of work, and easily accessible for your team by making it available in the tool that your team uses every day.
If you'd like to see how Stop & Think can help your team make the best use of Whole Brain® Thinking, request a demo today.
Stay in the know with everything Herrmann